Cowtown Film Series features Ohio-Made Flicks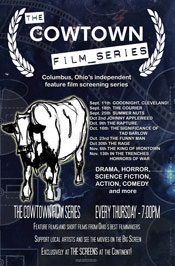 COWTOWN FILM SERIES PUTS OHIO-MADE FEATURES ON THE BIG SCREEN
The Cowtown Film Series will present eleven Ohio made feature films at The Screens Movie Theater at The Continent in Columbus Ohio. Each film will be followed with a Q&A with the filmmakers. Tickets are available for $3 each, or a $10 pass for the whole series of films at the box office. Each week, a different film will premiere at 7:00PM every Thursday night. Short films from Ohio filmmakers will accompany each feature. Most of the presentations would not be rated less than PG-13 and most lean more towards the R rating. Sunny 95's Dino Tripodis will MC several of the screenings.
"No one is really showing the locally made movies, especially not features," says Peter John Ross, the organizer of the event. "These films are not only an alternative to the Hollywood machine; they're Ohio's voice coming through in the films. These are stories by Ohioans being shown in the Capital city."
Many local filmmakers teamed up to demonstrate that Ohio has a burgeoning film scene. From the dramedy of GOODNIGHT CLEVELAND (Sept 11th), to the action of THE COURIER (Sept. 18th), to the stoner comedy of JOHNNY APPLEWEED (Oct 7th), and even the classic horror of Bob Kurtzman's THE RAGE (Oct. 30th) – the Cowtown Film Series shows a diverse range in storytelling as well. Some of the features were shot on film, others on high definition, and others on consumer grade video cameras.
The first film in the series, GOODNIGHT, CLEVELAND! has been gestating for over 11 years. Shooting began in 1996-1997 and languished in post production for over a decade until desktop editing allowed the filmmakers to edit the 16mm film in the digital realm more affordably. The drama of a comedy group that just isn't funny creates a unique movie from the roots of Columbus Ohio's independent film movement of the 1990's starring George Caleodis, now of the Improv Olympic in Los Angeles, and David Whitehouse of Shadowbox Theater, plus Dino Tripodis of the DINO AND SHAWN show on Sunny 95FM.
One of the highlights of the series will be Bob Kurtzman's THE RAGE. Kurtzman is a legend in the horror film genre, having already directed features for Hollywood. He made his mark as the director of Wes Craven's WISHMASTER, and more recently THE RAGE, shot in Ohio. His biggest claim to fame comes in the form of his makeup FX work done in Hollywood. The "K" in KNB Effects where he did special FX for directors from Sam Raimi to John Carpenter to Cameron Crowe to Michael Bay, and put his mark on horror film franchises like EVIL DEAD, NIGHTMARE ON ELM STREET, AUSTIN POWERS, & SCREAM. Rob is also the originator of FROM DUSK TILL DAWN, writing the story that Quentin Tarantino adapted into a screenplay and Robert Rodriguez directed. Bob is currently directing features with his own studio and is now living and working in Crestline, Ohio.
Digital filmmaking tools make it possible for more people to create motion pictures today, even in Ohio. Every one of the films being presented has been processed by a computer at some stage, if not entirely done digitally. The new wave of camcorders allows every day people to write, shoot, and edit a movie on a desktop or even a laptop computer. The goal of most aspiring moviemakers remains a showing on the big screen. The Cowtown Film Series demonstrates some of the best Ohio has to offer in terms of cinematic storytelling by showing them at a real movie theater. Digital projection allows for more and more aspiring filmmakers to realize their dreams.
"It's a rare thing to be able to see your own movie on the big screen," said says Peter John Ross. "I'm excited to show Columbus what all these different filmmakers have achieved, some with tens of dollars and others with real budgets. They're all Ohio movies and I'm proud of what we can do."
Tickets are available at the box office of THE SCREENS at 6360 Bush Blvd, Columbus Ohio 43229 or call (614) 318-0550 – $3 per film or $10 for a pass for all screenings.
The official site is http://cowtown.sonnyboo.com

Tags: