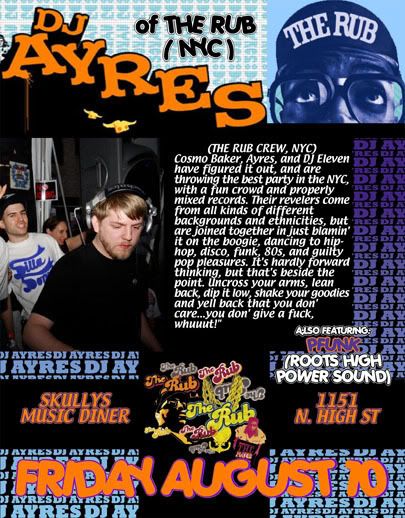 sxsw - Eleven, A-Trak, Ayres
sxsw - Smalltown Mike, A-Trak & The Rub
dj ayres at certified banannas
"A Glamorous Life" by Trent Macnamara (6 page profile in Oxford American magazine, Music Issue 2006)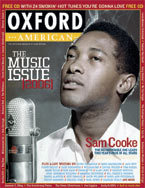 excerpt:
"The hottest dj in Brooklyn is a mild-mannered whiteboy from Mississippi named Ayres Haxton, Jr. ONce a month on Saturday Night, DJ Ayres takes the stage at Brooklyn's Southpaw, a big, dark, windowless club where the Borough's wildest go to dance and sweat. For an hour he wanders among the sound mixers and racks of obscure hip-hop records, greeting people and watching his guest DJ perform for whatever crowd has gathered on the dance floor or at the bar. These are the early hours - before midnight - of The Rub, a party that began in 2002 to celebrate Ayres's twenty-sixth birthday, and which proved so popular that Southpaw's owner asked Ayres to re-celebrate his birthday every month. ¶ By midnight, when Ayres takes over the turntables, the club is usually bursting, with a crowd that dances raucously as he carefully picks his beats - his head bobbing slightly with outsized silver earphones covering one ear - working one or two songs ahead of the crowd. Some beats are staccato and loud to the point of violence, some soft and melodic. Three nights a week, at Southpaw and other clubs, Ayres experiments - with hip-hop, classic soul, reggae, Baltimore club, disco, Miami bass, old school rap, '80s rock, and sundry other genres. He plays OutKast, Notorious B.I.G., and the Tlaking Heads. In real time he will layer the bounce theme song from Ghostbusters over an acaplella rap track containing the Mobb Deep lyrics, 'Show you how we do it in Queens / Where murder ain't shit, nigga.' The main idea, of course, is to get people dancing."
read the entire article on the Oxford American website
http://www.oxfordamericanmag.com/content.cfm?ArticleID=82&Entry=CurrentIssue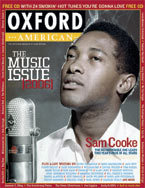 check that bio (complete with lots of informative links) here...
http://www.djayres.com/bio.htm
check them mix tapes here
http://www.djayres.com/mixtapes/store.htm
heres some more press....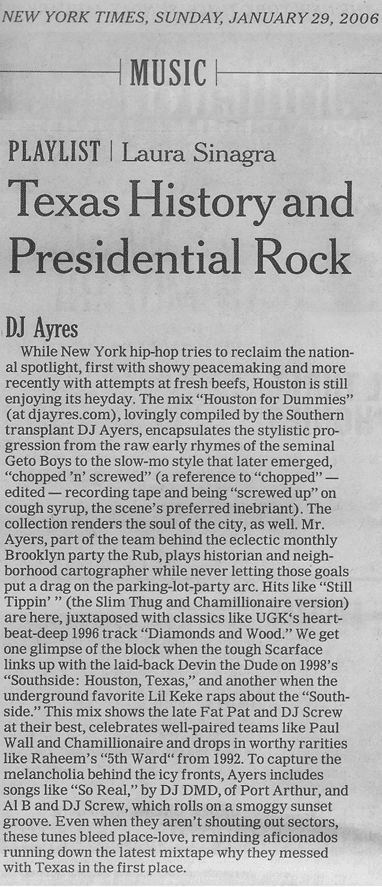 official flyer and opener information coming soon....