Yesterday I fell in the garage when my wet bare feet hydroplaned on some very smooth concrete floor. I've slipped there before but this was the first fall.
I want to grind or scratch some texture into it. Search results bring up big machines to grind away coatings and level slabs - is there some handheld tool to simply roughen the surface?
Maybe a wire flail?
Or something with teeth? Or would I be a watch-this-folks moron to spin something like this on a handheld drill?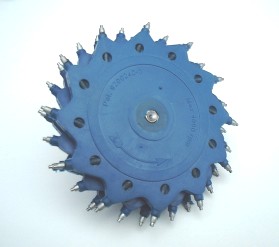 Maybe I should just mix sand into porch enamel like I did with the front porch.