Many of you know Mandy Henderson as Columbus Underground's resident Nature Enthusiast. You might have followed her wonderful series, This Month in the Ohio Woods, made cold cream with her, or talked about green methods of cleaning. Recently, she landed her dream job as Volunteer Director at The Highlands Nature Sanctuary in Bainbridge, about an hour and half south of Columbus. While that meant she would be moving away for awhile, she continues to be an active contributor on Columbus Underground. Moving closer to nature has led her to conduct an experiment to see how simply she can live. Her lodging is a "big, drafty old farmhouse" where she has decided to move into the room with the woodburning fireplace and is now her office/bedroom/dining room/etc. I decided to take a drive south to visit Mandy and see how her small space – only about 150 square feet – was treating her in the quiet of winter.
The house Mandy is living in was built in the 1930s in an Art Deco style. She has been staying there since March of last year. The house was breezy and cool during the summer. It sits on a hill in the middle of woods which Mandy says is really pleasant. The house is surrounded by Silver Maples, Mulberry trees, blackberries, raspberries, gooseberries, wild greens and mushrooms and pawpaws. When the weather turned colder, the house became draftier and that helped her make the decision to live in the main room. She still has access to a kitchen, but has a small kitchenette in her room with pots of water and a microwave.
The wood burning stove sits in the middle of the room and fills the space with its comforting glow and warmth. Mandy's daughter was visiting while I was there and she told me that it was "very nice and warm here." She also really enjoyed sitting with sacks of corn kernels heated in the microwave which she dubbed "corn mommies."
In addition to her small kitchenette, Mandy has a space for bathing, a clothes closet under the staircase, a desk, her bed, and a table with a couple of comfortable rocking chairs. The toile curtains over the doorways to the other rooms are a beautiful and functional.
She's found that to keep her small space livable, she must keep it clean and her things put away. Otherwise it becomes too cluttered and cloying. She has been enjoying painting again and has a couple of her paintings on display. Other artwork on display includes a small piece by Ohio artist Charles Burchfield and her everyday objects arranged beautifully.
When she's not working, Mandy is taking care of her animals, a Barred Cochin Bantum named Oreo and a few goats, sheep and cats or hiking through her beautiful surroundings.
She is close to JR's General Store & Farm Market, a fantastic store owned and operated by the local Mennonite community offering many different bulk foods and spices, as well as canned goods and meats and cheeses, all at great prices. When her daughter visits, they love to go there and explore and she has gotten her several beautiful dresses there. If you are in the market for a lovely wooden rocking chair, they have many to choose from, priced from $130-$250. They also have wooden kid-sized tables ($80) and chairs ($50 each).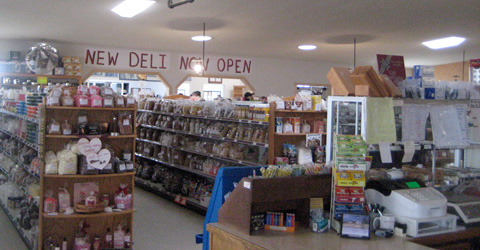 If you'd like a chance to explore the area (with free lodging!) Mandy is currently looking for volunteers to cook dinners for garlic mustard pluckers. Click here to see available dates and more details. Founded in 1995, the Highlands Nature Sanctuary is the largest preserve in the Arc of Appalachia Preserve System. It is roughly 2000 acreas around the beautiful Rocky Fork Gorge region.
Day Passes are available for $6 for adults and $3 for children under 15. Children under 3 are free.
The Highlands Nature Sanctuary is open:
Weekends only, April-October, to the general public. If you have a membership, however, you have access to the trails every day of the year.